Tattoo Removal
Conveniently located to serve the areas of Beverly Hills, Los Angeles and Newport Beach
Tattoo removal is a safe, effective way to restore your skin to its pre-ink perfection.
Expression is artistic, emotional, and fundamentally human. We express ourselves with every gesture and utterance we share with those around us. But when one form of expression overshadows another, it can stand in the way of letting people know who you truly are.
The tattoo(s) you got in your younger years may not represent the person you are today. If people stare at your ink and think, "Why?" then you may want to consider turning the page on your outdated skin art.
Without judgment, Dr. Christopher Asandra will use the very latest and very best medical techniques to help you rediscover your smooth, clear skin. It will be just like it never happened. AsandraMD is your ultimate restoration destination, conveniently nestled in the heart of Beverly Hills. Dr. Asandra can erase regrettable marks from the past and pave a bright, expressive new future for you.
Contact AsandraMD to learn how tattoo removal can illuminate a brand new day of ink-free, carefree possibilities. We also offer virtual consultations for those who are currently unable to visit us in person. No matter where your tatts are, Dr. Asandra can assess them and draw up a strategy for their removal.
Laser Treatments for Tattoos
Tattoos can seem like a great idea at the time, but often our older and wiser selves tend to reconsider permanent decisions made in our youth, or even yesterday. Thankfully, we now have the technology to quickly and permanently remedy those mistakes.
Using photoacoustics, the PiQo4 laser harnesses the power of light and sound as opposed to thermal energy.[1] This results in a far more effective, comfortable, and less abrasive treatment. The PiQo4 is equipped with four wavelengths, treating the broadest range of tattoo colors on the most diverse skin types.[2] The combination of Nano and Pico energies makes the PiQo4 not only the most advanced laser of its kind, but also the most efficient.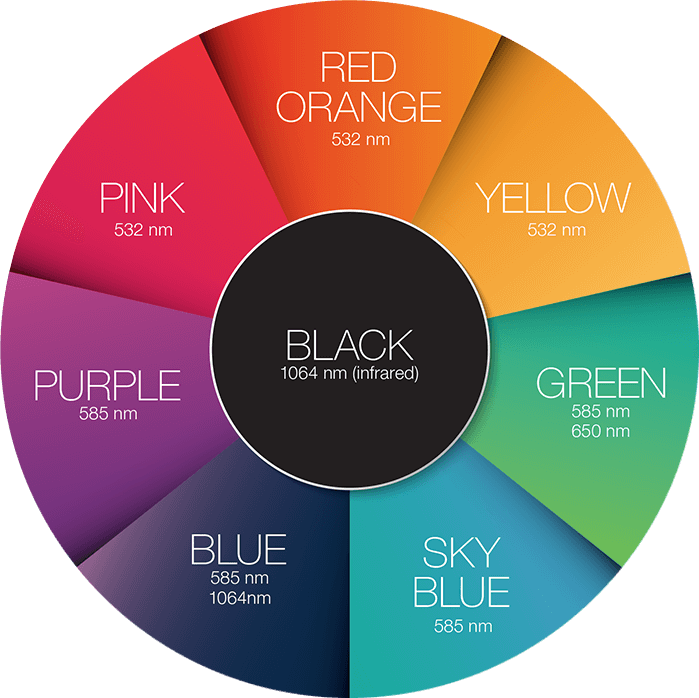 Before & After Photos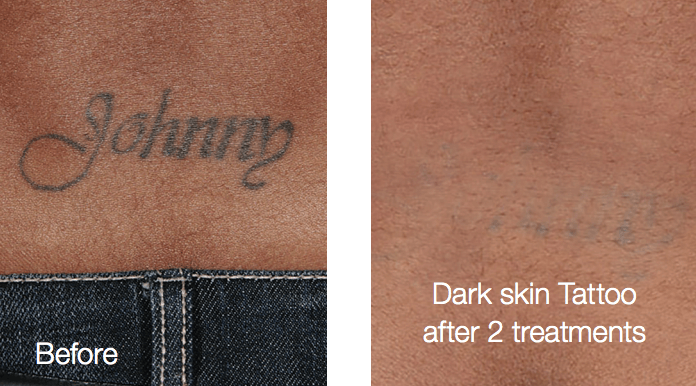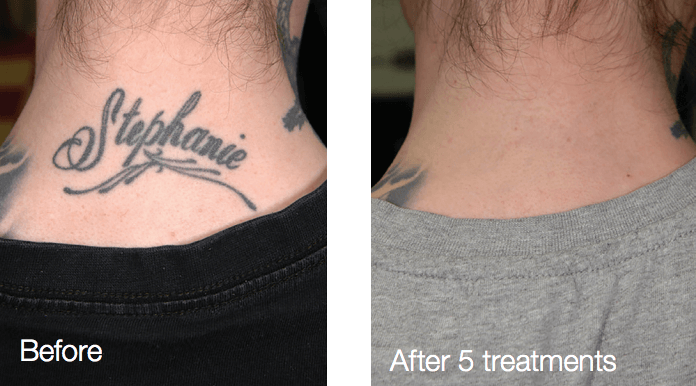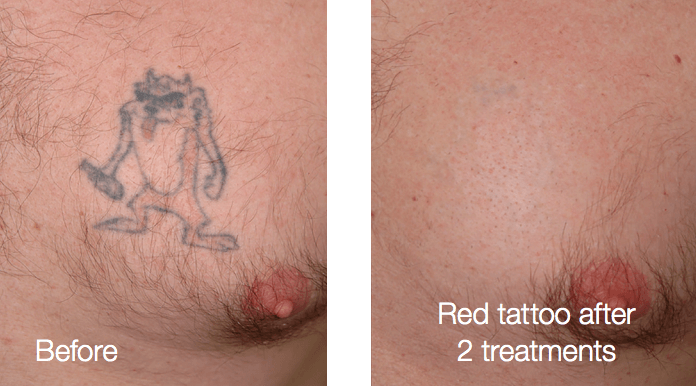 Benefits of Tattoo Removal
In an ideal world, people are not judged by their exterior appearance. However, we have a long way to go before we reach that utopia. Every day, you are evaluated by what clothes you wear and what expressions you convey. When tattoos are added to the mix, they invite a whole new level of preconceptions.
Tattoo removal is especially important to individuals seeking active employment. The job market is extremely competitive, and you do not want to give hiring managers any reason to dismiss your application. If you have visible tattoos, it doesn't necessarily reflect upon your soul, but employers may not understand this subtle distinction.
Laser resurfacing facilitates fast, thorough tattoo removal that can help you look more professional. Offering the largest spot size, deepest penetration, and most versatile energy matrix on the market, the PiQo4 laser allows the removal of tattoos with 40% fewer treatments compared to other methods.
Laser Treatment Benefits
Less painful than outdated tattoo removal techniques, yet more effective [3, 4]
Four wavelengths cover a wide array of popular tattoo ink colors
The adjustability of the PiQo4 allows it to cover more surface in less time
Transforms skin into a "clean slate" without a hint of lingering tattoo remnants
To experience the benefits of laser tattoo removal for yourself, contact AsandraMD at your earliest convenience.
Eligible Candidates
If you regret the tattoos of years gone by, say goodbye! Dr. Asandra can remove skin art large and small. To be eligible, you should not be experiencing active acne breakouts or infections in the area(s) where you want treatment. To determine if laser tattoo removal is right for you, call (424) 361-0808 and consult with the experts at AsandraMD.
Private Consultation
Improvement requires communication. How can you expect anything to get better if you can't explain what's wrong? Dr. Asandra is a world-class communicator, as you can hear on his podcast series, Priority Male. In each episode, Dr. Asandra identifies areas where guys can benefit from new perspectives and new innovations.
Speaking of innovation, laser tattoo removal illuminates the cutting edge of modern science. You don't need to shrug and accept mistakes from your youth. Blast them away with the help of a seasoned medical professional. Schedule a consultation with AsandraMD and get ready to turn back time.
Preparation and Procedure
During your comprehensive consultation, you will receive detailed instructions to prepare you for tattoo removal. These directions are tailored to you like the ink you cultivated in the first place, so follow them closely. You may be instructed to prep your skin with certain moisturizers and supplements in the weeks leading up to your laser treatment. Dr. Asandra is the foremost authority on skin maintenance, so his advice is the gold standard in aesthetic care.
The PiQo4 laser works in two distinct, powerful stages. First, its nanosecond pulses target large areas of discoloration. Laser treatments can help diminish and even erase age spots, but they are perfectly adaptable to tattoo removal due to their ability to identify aberrant hues beneath the skin's surface.
Next, picosecond pulses of laser light go to work, further breaking up the discoloration targeted by the initial wave of nanosecond treatment. The process is akin to turning boulders into pebbles; it can't be done in one easy action. Instead, you divide the boulders, separate the rocks, and diminish the larger chunks carefully and comprehensively. That is how you turn a tattoo into a memory.
Tattoos can – and should – be unique, but they are generally created using nine major colors. The PiQo4 beam bathes your tattoo in healing laser light, breaking up all nine tattoo hues with its adjustable wavelengths.
The duration of a tattoo removal session will invariably depend on the size of the ink you want addressed. Contact AsandraMD to learn more about tattoo removal treatment and to schedule your first appointment. 
Rapid Recovery
Laser tattoo removal targets unwanted ink by identifying its wavelengths. The pulsed light of our PiQo4 laser breaks down the coloring, but it may not happen all in one session. After a given treatment, you will feel a sensation akin to sunburn. This is natural and normal. Dr. Asandra can recommend moisturizers and topical compresses to minimize discomfort.
The doctor will also strategize any follow-up sessions required to get the job done. Although the PiQo4 requires less time and visits than older methods of tattoo removal, you will most likely need to return to AsandraMD at least once to finalize the erasure of your tattoos.
Amazing Results
From sexual wellness to hair restoration to hormone replacement therapy (HRT), AsandraMD helps clients achieve their best selves. You can see it on the faces of Dr. Asandra's grateful guests and hear it in their glowing reviews. When skin is healthy, it shimmers with confidence. Why would you want to sully that perfection with an unwanted tattoo?
As they say, a picture is worth a thousand words, so our photo gallery is a treasure trove of wellness fit for a queen and/or king. Satisfaction and safety are the pillars on which AsandraMD is founded. Our job is not done until you can look at the area where your old tattoo once lived and see nothing but vibrant, clear skin. Call (424) 361-0808 or contact us online to start your journey down the road to restoration, one tatt at a time.
FAQ
How much does tattoo removal cost in Beverly Hills?
The price of removing a tattoo depends on the nature of the tattoo itself. The size of your ink will determine how extensive the removal process will be. Dr. Asandra will provide you with an honest, transparent cost breakdown during your comprehensive consultation. He can even work within your hectic schedule to arrange a virtual consultation if you cannot visit our Beverly Hills office in person.
Is laser resurfacing painful?
Tattoo removal is a precise, yet complicated, process. You should only trust the procedure to a skilled medical professional. Dr. Christopher Asandra has spent his entire career researching and applying the least invasive ways to help patients achieve their goals. Whether you want to bolster your confidence in the bedroom or increase your marketability in the boardroom, Dr. Asandra can help. Tattoo removal is just one of the doctor's many areas of expertise, so contact AsandraMD and benefit from his dedication!
References