Hair Restoration
Consultations offered at our three convenient locations in Beverly Hills, Los Angeles and Newport Beach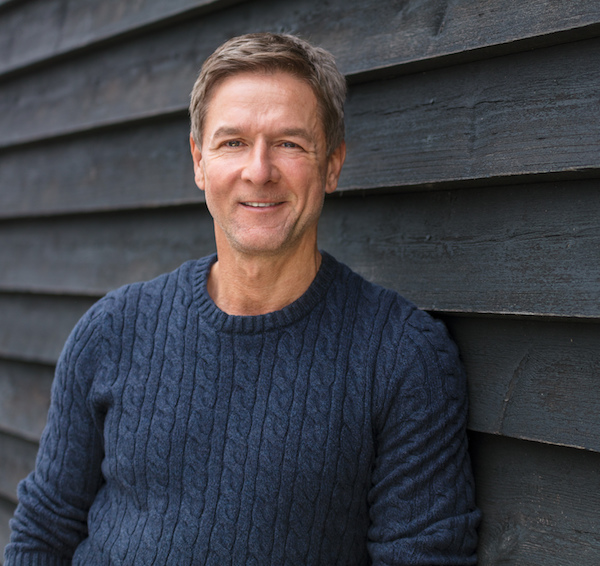 Hair restoration is a means of restoring hair through the latest innovations in anti-aging medicine. With hair restoration, you can regain the confidence that comes with feeling great about your full head of hair.
Regrow Your Confidence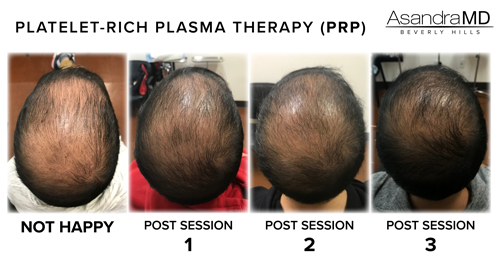 Hair loss is often the first and most dreaded sign that Father Time does not discriminate. We live in a culture that equates a thick and lush head of hair with youth and vitality. Our self-confidence also tends to diminish with thinning hair. It can be a very scary thing to see a shower drain clogged with the luscious locks we failed to appreciate in our youth.
Technology, however, is a beautiful thing. You don't have to experience the embarrassment or loss of self-esteem due to hair loss. Hair restoration can revitalize your scalp and help regrow your self-confidence.
Christopher Asandra, MD, founder of AsandraMD, is an expert in vitality and anti-aging treatments. His anti-aging treatments have earned nationwide acclaim. With appearances on the Emmy award-winning television show, The Doctors, he possesses the verified credentials to help you craft a hair restoration strategy. If you're ready to regain that head of hair you remember, connect with AsandraMD's team of concierge medical experts by scheduling a consultation online or calling our Beverly Hills office at (424) 361-0808.
About Hair Restoration in Los Angeles
The American Hair Loss Association estimates that by the age of 25, two-thirds of men experience some degree of hair loss. By age 50, that increases to 85% of men. Losing hair is not enjoyable. But a variety of cutting-edge techniques can now treat hair restoration and help restore your hair to it's handsome, youthful state. 
At AsandraMD, we employ multiple techniques which including using your own platelet-rich plasma (PRP), using an FDA approved low-level laser to stimulate stem cells deep in your hair follicles, or transplanting follicles from the back of your head to the affected areas of hair loss. We're confident we can take you back to your glory days, with no linear scars and no painful side effects.
Hair Restoration Procedures Can Treat
Androgenetic alopecia (Male-pattern baldness)
Balding hair
Diminished hair thickness
Loss of facial hair
Dwindling eyebrows
Before & After Photos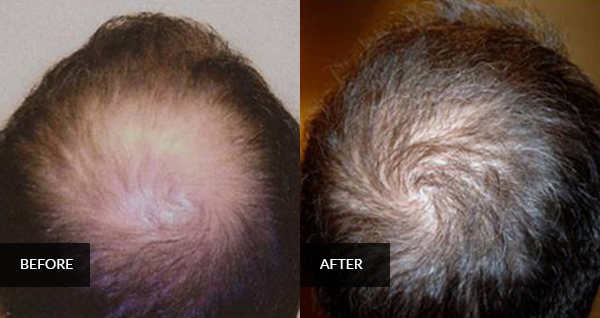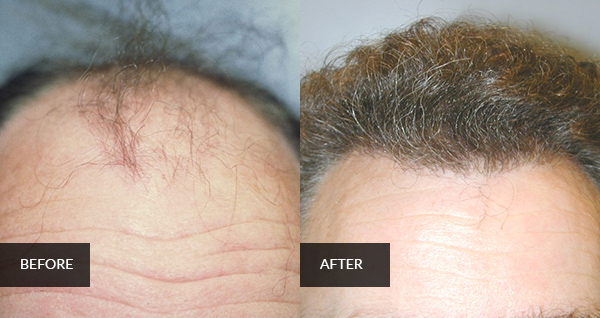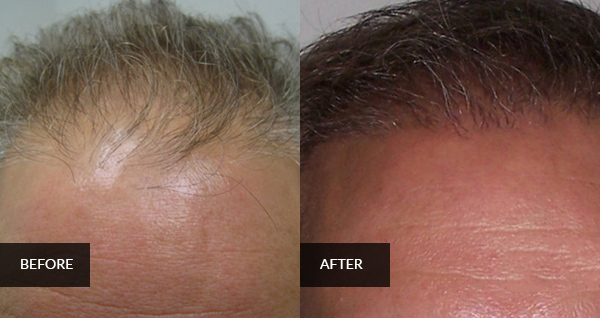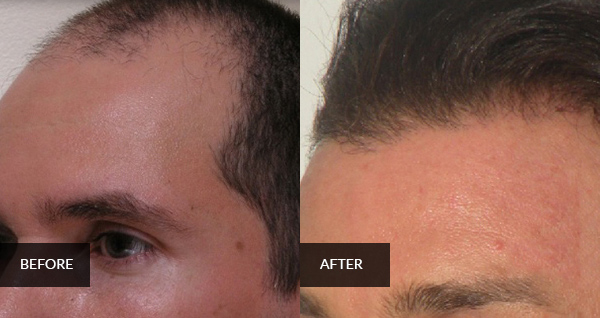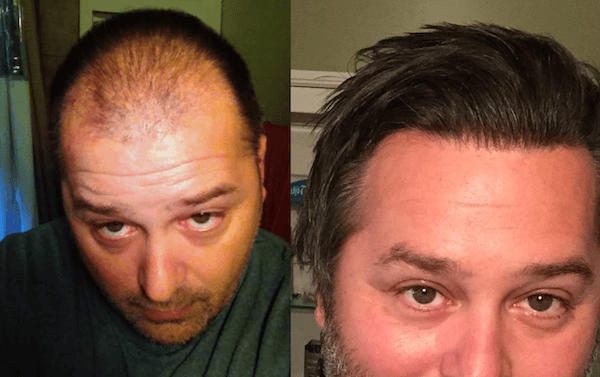 Benefits
The physical benefits of hair restoration are readily apparent. More important are meaningful psychological benefits that derive from being proud of your restored mane. Some men find it uncomfortable to discuss early hair loss. They might shave their head to cover it up or take to wearing hats when outdoors. Hair restoration will have you standing proud with a revived head of hair.
Eligible Candidates
Candidates eligible for hair restoration are typically men who have been losing hair for a few years or men who have reached at least Type III on the Norwood Scale for hair loss. Dr. O'Tar Norwood developed the Norwood scale in 1975 after reviewing 1,000 cases of patterned hair loss.
The Norwood Scale for Baldness
Type I – No noticeable hair loss or a receding hairline
Type II – Slight receding hairline, usually symmetrical, around the temples
Type III – This stage qualifies as the first stage to qualify as balding. It's marked by a significant recession of the hairline at the temples. Type III Vertex is a variant where hair loss begins at the vertex or top of the head. Type III Vertex gets commonly called bald spots.
Type IV – Type IV characterized by a more significant hairline recession around the temples or by sparse or no hair at the top of the head (vertex).
Type V – Type V involves even more hair loss at the vertex and/or at the temples, although there is still a strip of hair separating the two areas of hair loss. Hair around the crown of the head can start to become sparse.
Type VI – The two primary balding areas join together. Only sparse hair remains along the crown.
Type VII – Only a thin, horseshoe shape band of hair remains. The remaining hair is not dense and usually very fine or stringy.
Norwood Type A – This a variation on the most common hair loss pattern where the hairline uniformly recedes from the front to the back. There is no bald spot at the vertex and no band of hair at the front. The hairline simply recedes from the forehead to the back of the head with no patches of sparse hair or bald spots.
The Norwood scale doesn't account for irregular patterns of hair loss. A consultation with a hair restoration expert like Dr. Asandra can help you determine which rejuvenation treatment is right for your hair loss.
Your Private Consultation with AsandraMD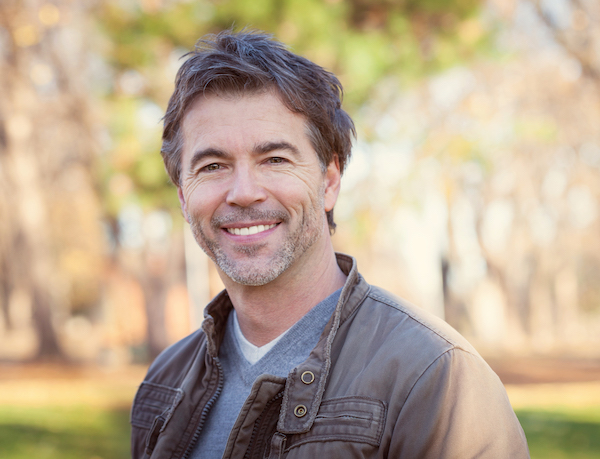 Your path to hair restoration begins with a consultation at AsandraMD. During your private consultation, you should expect an assessment of your medical history and an examination of your scalp. After analyzing your situation, AsandraMD can provide you with a customized strategy for hair restoration tailored to your particular needs. To discover how hair restoration can help you regain that head of hair you crave, please book a consultation online or call our Beverly Hills office at (424) 361-0808. To get a preview of the premium service you'll receive at AsandraMD, browse through our reviews. We value every patient and love hearing from them as they continue their journeys of personal rejuvenation.
Preparation
A week before a hair transplant you should refrain from taking vitamin supplements that contain Vitamins B or E, or fish oils. These vitamins have the potential to increase bleeding and lengthen the post-procedure recovery. Anti-inflammatory medication should also be avoided in the week before a transplant. These medications include aspirin, ibuprofen, Motrin, and Aleve which can thin the blood and interfere with recovery. Smoking should be avoided as it constricts blood vessels and impairs the circulation. Make sure you follow any additional instructions provided by AsandraMD to ensure the best results.
Techniques for Hair Restoration
Hair transplants used to entail cutting strips from donor areas and installing that strip to men via invasive surgery. Technology has come a long way since then. We now offer a suite of cutting-edge hair restoration methods.
Platelet-rich Plasma (PRP)
PRP treatments have been growing in popularity in recent years. They show a lot of promise in reversing the effects of aging. PRP therapy leverages the regenerative power in your own blood to revitalize your scalp. The PRP  serum is spun in a centrifuge to concentrate the platelets. Our platelets hold our blood's rejuvenating and healing properties. Once concentrated and purified, the PRP solution is then injected locally into designated treatment sites to stimulate regrowth of the hair. Surveys of clinical research into the efficacy of PRP therapy for hair restoration have consistently shown a significant increase in mean hair count with minimal to zero side-effects.
Laser Therapy
Low-level laser therapy (LLLT) is another potential path for hair restoration. LLLT therapy for hair restoration was discovered serendipitously in the 1960s when lab mice undergoing LLLT treatments unexpectedly grew thick tufts of fur. LLLT can be used in conjunction with other treatments or by itself. Studies found that LLLT promotes the health of hair grafts and facilitates the healing process on the scalp. A double-blind study found that laser treatments offered moderate improvements in hair growth when used by themselves by stimulating stem cells in the treatment area.
Recovery
Recovery times will be different depending on which hair restoration AsandraMD utilizes.
Results
Modern treatments can be used by themselves or, in some cases, in combination to produce significant results. Current hair restoration treatments are also considered safe and come with no visible scarring.
How Much Does Hair Restoration Cost in Los Angeles?
After your preliminary consultation, we will provide our thoughtful recommendations for which treatments will suit your situation the best. At this time, we can provide you with a clear and comprehensive list of prices.  
FAQ
Does hair restoration work?
Today's treatments for restoring the hair are remarkably successful at achieving visible improvements. While there is no magic hair tonic that regrows a full head of hair, there are several proven treatments that can show improvements in hair count and density.
References